Garden's Trust | 12th New Research Symposium–Part I
November 26, 2022 @ 10:00 am

-

12:00 pm
Now in its 12th year the Gardens Trust's New Research Symposium provides a forum for new research on subjects related to garden history for all researchers and scholars, whether or not they are attached to an academic institution. This year we had so many interesting proposals that we decided to run it in two parts. The first will concentrate on 19thc topics, while the second group of papers will cover a much wider spectrum and will be held on Saturday 10th December.
Each paper will be 20 minutes long with questions afterwards. They will be chaired by Stephen Smith.
…..
Tickets for the symposium are free but donations are very welcome!
Go to: https://bit.ly/DonateGardensTrust
…..
Attendees will be sent a Zoom link 2 days prior to the start of the talk, and a link to the recorded session, available for one week, will be sent shortly afterwards.
…..
PROGRAMME FOR SATURDAY 26 NOVEMBER from 4-6pm GMT
4.00 Lisa White: Alexander McKenzie, the 19th century Horticulturist and Landscape Designer – His Life, Career, and Legacy
This paper reviews the life and career of the 19th century landscape designer, Alexander McKenzie. McKenzie is routinely regarded as a relatively minor figure in the history of public landscape design, a perception at odds with his prominent role in designing some of the most celebrated green spaces in London and elsewhere.
A challenge for any retrospective of McKenzie is the sheer volume of his work. This grew prolifically toward the end of the 19th century, making it necessary to restrict this essay to three representative examples of his designs: Alexandra Palace Park in north London; Victoria Embankment Gardens in central London; and Queen's Park in northwest London. The research has included searches of the relevant libraries and archives for primary sources of information, and a review of secondary sources found in published books, journals, and essays. Site visits to the three example designs were also fundamental in gaining an understanding of his style.
This study of McKenzie's work and writings suggest he was a leading proponent of the movement toward the naturalistic fashions of the last quarter of the 19th century. He was an accomplished horticulturist who frequently contributed to gardening periodicals of the time and he expressed his love for the forms of nature in his designs. There is much more to be discovered about this under-stated figure whose place in garden and landscape history is not yet fully understood.
Lisa White worked as an Accountant most of her life while studying horticulture part time (RHS level 2 and 3 diplomas), she then embarked on a change of career by studying for a full-time BA Hons degree in Garden Design. She has just completed a master's degree in Garden and Landscape History at the University of London, and she is starting a PhD in January 2023 to carry in researching the life and career of the 19th century Horticulturist and Landscape Designer Alexander McKenzie.
Image: London Picture Archive.org.uk
…..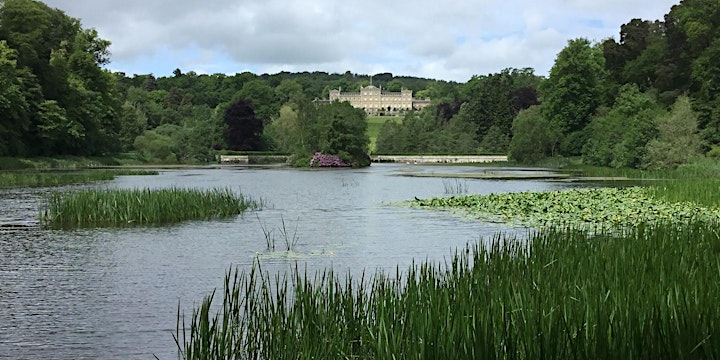 4.30 Sara Tenneson: Sir Reginald Blomfield – a reappraisal
We have a limited view of Sir Reginald Blomfield (1856-1942) as a garden designer. Immediate thoughts go to the elaborate garden plan for Mellerstain House in the Scottish Borders, the publication of his book The Formal Garden in England in 1892 or his association with William Robinson (1838-1935) and the 'spat' they had about who should design the garden, the architect or the gardener.
Blomfield was in fact a prolific garden designer, on his death in 1942 his son Austin publishing a list of his works with over 30 garden sites. New research as part of a PhD thesis on the revival of the formal garden in the late nineteenth century discovered that some garden plans were not executed, some have not been traced and some have been demolished; but 15 garden sites survive in some form today.
This paper will discuss Blomfield's signature feature and what he actually created for the garden at Mellerstain House.
Sara Tenneson's interest in garden history started over twenty years ago with the Birkbeck Garden History Certificate and Diploma courses, followed by an MA. She is currently finishing her PhD on the revival of the formal garden in the late nineteenth century at the Institute of Historical Research.
…..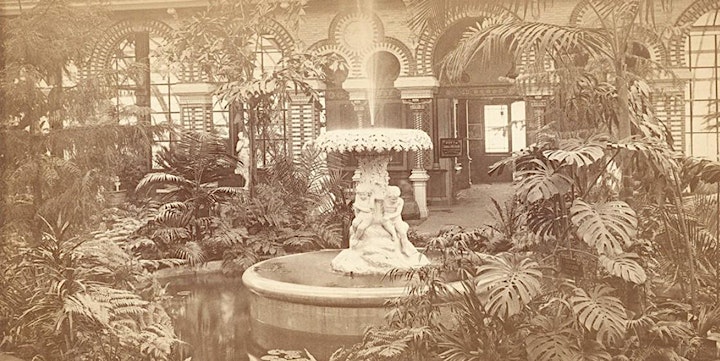 5.00 Emily Ann Francisco: Margaret Foley's Fountain – Sculpture, Horticulture, and Imperial-ism at the Philadelphia Centennial Exhibition
In 1876, the American expatriate artist Margaret Foley sent several sculptures from Rome to the Philadelphia Centennial Exhibition. Included was an eight-foot-tall neoclassical fountain depicting three children on rocks beneath an umbrella of acanthus leaves. The marble fountain was a centerpiece for Horticultural Hall, a conservatory built on the exposition grounds. Although the building was destroyed in 1955, Foley's fountain remains installed today at the Fairmount Park Horticulture Center, where it needs conservation.
This essay explores the significance of Foley's fountain through the intertwined Centennial displays of fine art (in Memorial Hall) and botanic gardens (in Horticultural Hall). Her sculpture linked the two exhibitions, presenting a unified vision of art and science on an international scale. The U.S. sat literally at the center of this vision through the inclusion of the fountain, a global object made by an American expatriate artist and shipped from overseas. It was placed in the center of the building and surrounded by tropical plants, mostly contributed by European countries and their colonial territories. Through investigating the function and reception of Foley's fountain, we gain a fuller picture of the prominent role of expatriate women artists in Centennial narratives of Ameri-can art and empire.
Emily Ann Francisco is a doctoral student in the Department of Art History at the University of Delaware. She is also Curatorial Assistant in the Department of Modern and Contemporary Art at the National Gallery of Art in Washington, DC, where she works primarily on acquisitions, permanent collection projects, and installations. Emily earned her M.A. in Art History and an M.A. in Museum Studies from Syracuse University, and a B.A. in Art History and English from Gettysburg College. Emily's research interests include nineteenth- and twentieth-century sculpture of the United States; visual culture of the interwar era; direct carving; gender studies; and the history of collections. She has presented research at the College Art Association, the Feminist Art History Conference, the Universities Art Association of Canada, and the Pennsylvania Academy of Fine Arts.
Image: Centennial Photographic Company, Study in Horticultural Hall, 1876. Silver albumen print, Free Library of Philadelphia
…..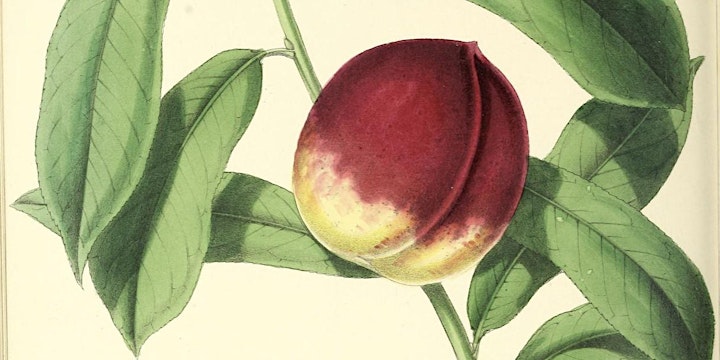 5.30 Francesca Murray: The Stanwick Nectarine
As the gardening trade formalised itself as a profession in the nineteenth century its practitioners' sought association and fraternity. Despite often working well in their twilight years, the risk of injury and infirmity of age meant the security of employment in the increasingly competitive marketplace was precarious, with little state welfare provision. Evidence suggests the gardening community sought to look after its own. They cultivated structures of conviviality, brotherhood, and mutual association to offer mechanisms of financial and fraternal support within their growing profession. Using the friendly society model, the Gardeners' Royal Benevolent Institution was established in 1839 to provide its first gardeners' pension in 1840 and still exists today in the form of the gardening charity 'Perennial'. It was supported by the influential City of London merchants, aristocrats, and key practitioners of the horticultural trade. Annual fundraising dinners, sales of exotic fruit and garden openings sustained its subscribers throughout the century and provided altruistic networks that exemplified the philanthropic energy of the period. These networks crossed boundaries between the working gardener, nurserymen, garden owner and the gardening elite. This talk seeks to provide an example of its early fundraising work and networks of influence – the story of the Stanwick Nectarine, a Syrian fruit gifted to the Duke of Northumberland and propagated by one of the most expert pomologists of all time, Thomas Rivers in aid of the Gardeners' Royal Benevolent Institution.
Francesca Murray is a third year PhD Student at Queen Mary University of London (QMUL) researching nineteenth century aged and indigent gardeners and the associations that came to their aid. She is particularly interested in examining their lived experiences and the benevolent networks that influenced the outcome of their predicament. She is also well acquainted with George Glenny the 'horticultural hornet' of the 19th century. She has a Masters in Garden History (2015), University of Buckingham under Tim Mowl, and a BA in Classical Studies (KCL 1992). She ran her own gardening business Woodrow Garden Design for twelve years after a career in interior design.
Image: C T Rosenberg, Thomas Moore and William P Ayres (eds.) The Gardeners' Magazine of Botany Horticulture, Floriculture and Natural Science vol. 2. (1850)
Related Events