Hannah Palmer (English, 1818-1893)
Street of Tombs, Pompeii
1838
Graphite, watercolor and gouache
7 1/4 x 10 1/2 in.
Chazen Museum of Art, Edward Blake Blair Endowment Fund and Walter A. and Dorothy Jones Frautschi Endowment Fund purchase, 2004.30

Produced during the artist's two-year Italian honeymoon following Hannah's marriage to the famous watercolor artist, Samuel Palmer, this painting portrays a landscape scene that includes the Street of Tombs in Pompeii, Italy, as well as Mount Vesuvius. Hannah Palmer did several images of Pompeii, with her husband painting side by side with her [Fig. 1], which she thought among her very best works.
With the advent of the Industrial Revolution and the development of a British middle class, the desire, ability and occasion to travel became available to many. The fascination with Pompeii in particular was due to the fact that the town, buried since its destruction in 79 A.D., was rediscovered and excavated in the late eighteenth century. Still active, the volcano erupted eight times during the nineteenth century alone - once while Hannah Palmer and her husband where staying in Pompeii! The smoldering mountaintop depicted in this painting therefore serves to remind us of the town's destruction and, ultimately, its historical significance.
The artist cleverly uses color, light, shadow and figural composition to guide our eye around the painting. The darker colors in the foreground, as well as the placement of the shepherd and his two goats, first draw our attention to the entrance to the Street of Tombs. In sharp contrast, the much lighter and brighter colors of the background redirect us towards Mount Vesuvius - the true attraction of this exotic locale--providing a juxtaposition between the lurking danger of the volcano and the idyllic pastoral scene. Throughout, the use of bright colors also serves to conjure up a hot sunny, southern Italian day. Adding to this evocation is the artist's portrayal of the shepherd, pausing from his labors, under the shade of a tree. In letters to her family back in England, Hannah Palmer mentions how she must restrict her outdoor painting to early mornings due to the oppressive heat of the mid-day. The depiction of ruins also adds to a sense of Italy's timelessness and lack of modernity.
Due to the fact that that there was little opportunity for Victorian women to study art, many were trained by male relatives. Both Hannah Palmer's father (John Linnell) and husband were artists, and she characterized the time spent with her husband in Italy as deeply informative and educational. Samuel Palmer himself described her work as "really consistent, beautiful, and I think saleable drawings from nature," and they sketched together on their honeymoon, setting up a studio together when back in London. She exhibited at the British Institution in the 1840s but there is little record of her later work, and it appears that her responsibilities as a wife and mother may have interfered with her artistic aspirations. Despite a description of Hannah Palmer by one nineteenth-century critic as "a conventional, unimaginative, religious woman, dominated by her autocratic father, and more or less ignored by Sam Palmer, her reclusive, eccentric artist husband," she seems to have had some success as an artist, as she exhibited her work at both the prestigious Royal Academy of Art in London and the British Institution.


Rebekah Rickner

---
Fig. 1. Samuel Palmer, Street of Tombs, Pompeii, 1838.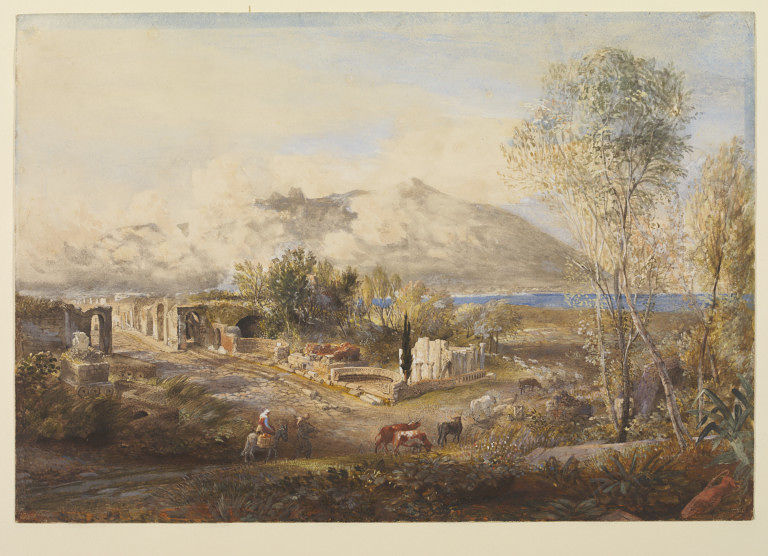 ---
Bibliography:
Anderson, Monica. "Women and the Politics of Travel, 1870-1914" (Madison, NJ: Fairleigh Dickinson University, 2006) p. 287.
Casteras, Susan. "With Palettes, Pencils, and Parasols: Victorian Women Artists Traverse the Empire" in Intrepid Women: Victorian Artists Travel. ed. Jordana Pomeroy. (Cornwall: Ashgate, 2005) pp. 13-17.
Cecil, David. "Visionary and Dreamer: Two Poetic Painter: Samuel Palmer and Edward Burne-Jones" in The A. W. Mellon Lectures in the Fine Arts Vol. 15. Bollingen series vol. 35 (Princeton: Princeton University press, 1969).
Harris, Elree I. A Gallery of Her Own: an Annotated Bibliography of Women in Victorian Painting (New York: Garland Publishing, 1997) p. 294/38.
Malalieu, Huon. British Watercolour Artists up to 1920 (Woodbridge, England: Antique Collectors' Club, 2002) p. 88.
Palmer, Samuel. The Letters of Samuel Palmer, Vol. 1, ed. Raymond Lister (Oxford: Clarendon Press, 1974) p. 168-170.
Ruskin, John. Modern Painters, Volume 1 (London: Smith, Eden and Co., 1848) p. 102.
Vaughan, William. Samuel Palmer, 1805-1881: Vision and Landscape, (Burlington, VT: Lund Humphries, 2005) p. 14, 192-193.
Wood, Christopher. The Dictionary of Victorian Painters (Woodbridge, England: Antique Collectors' Club, 1978) p. 22, 355.